mother fckin fuuuuuuuck she is even on her knees… thats the kind of shit that will get a prick into something not so hot and not so wet… cuffs… i can only hold back the shots that my dick is trying to spew out for so long… thankfully i didnt see this wicked fine chick… i know id have got caught… cops: "sir, please turn and speak with us… youve been openly recording this woman for the past 10 minutes…" then me: "well i know you aint fckin blind cuz you found me… you must not like chicks cuz this chick right here is the whole reason we have the lickable, i meant edible, god damn it i meant likeable lesbians…" fantasy end… in reality id just walk near by recording her and whispering "mmmmm you lil fckin cunt" lol… forgive the paragraph… im fckin tired and ate an edible… anyway, GREAT post!!
holy hell, my last comment was before i seen there was a god damn video!!! i fckin envy your eyeballs bro… the angel and devil on each of my shoulders would have been dead fckin quiet… well, except for the heavy breathing and the occasional spit in the hand… lol…
Holy shit! The pics were solid. But that video is fire!!!


And from the looks of it, she had no idea…I hope to god you are able to go back for another session!!!
This girl is absolutely perfect
Black leggings are notoriously bad for getting a good resolution. However, I've picked out my 2 favourite photos and slightly adjusted the brightness so you can see her arse better which I trust will improve your wanking experience.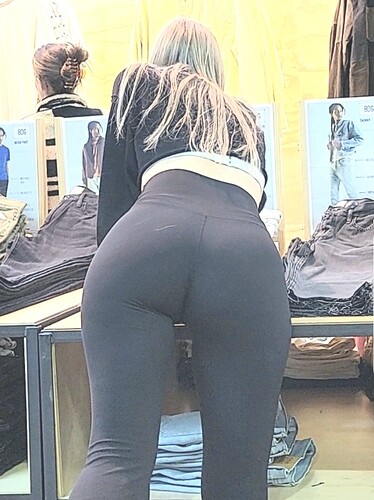 best photos ive seen on this site so far
Watching her pretty mouth chew gum

Pic2 is just amazing!! Perfect shot showing those leggings creeped in her delicious Ass cheeks