WOW, tough round

stuff from everyone
DAMN all these caps are amazing , got some great competition , keep it coming , the end is near but there can only be one champion, good luck to the winners

My Takes on Round 3: Part One.
HassX is a true cap soldier. The innocent-looking chick he caps is innocent no more. She's got a Tight and beautiful body. He should give a masterclass on how to get jaw-dropping close-ups. Awesome Work, Sir. It felt as if he was gonna cruise his way to the final easily, but…
Thonglover20 might have put an end to Hass' run. He keeps amazing the forum crowd with another beach cap. If there was a way to rip off that mask to see the pretty face. Thong dominated in this match. He is on his way to the semis for sure.
The host Cruzzer47 always strikes gold at Target. That girl is showing cheek with a dose of a jiggle. Sluts like her love to show off, making sure guys leave the store with a smile on their faces, but Cruzzer leaves with vids and pics archived for life. Great Run Man! Keep It Up!
Ze_De seems to be unstoppable and maybe the new favorite to go all the way. That Big cake cheeks are jiggling like a Jell-O. The gifs are worth a million wanks to turn those pants whiter and jaws to drop to the floor hoping that ass can sit on our faces. Fabulous Work. Merci.
Part 2 Coming soon. Great Work by These Elite Shooters.

hey, new to the forum, but shooter with 2 years experience here! I would love to enter in the next contest, how can I qualify?
Be active in the forum. Post your work. You have not posted any content yet. When I run a contest I want to see top tier active shooter's with original content. People that have been here on this forum posting their work. If your a new account and have no posts, that's not established.
OFFICIAL RESULTS - ROUND 3
---
1st Match - HassX vs Thonglover20
---
2nd Match - Cruzzer47 vs Ze_De
---
3rd Match - Hawkeye6 vs betab00ty
---
4th Match - Swoosh vs Ashtro
---
Winner's advance to Round 4
---
Round 4 - Semi Final Match Ups
Thonglover20 vs Ze_De

Hawkeye6 vs Ashtro
@Hawkeye6 is my runaway favorite to win. @Ashtro has been my objectively favorite poster this entire tournament, but Hawk does what we do, only with subjects in a lot skimpier clothing - that's hard to top.
My Take Of Round 3. Part 2:
Hawkeye6 hunted down a gorgeous jaw-dropping beach beauty. Love the back shots, but her front figure leaves me fascinated. Perfect dreamy Beach Girl. The things I would do to her from the back. Yum. Awesome Catch. Can we say this this guy is the underdog of the tourney?
Betab00ty delivered a splendid cap of a hottie in Lulu shorts. A hot ASS in Lulus whether there are in shorts or leggings is my weakness. I'm simply astonished by this cap. definitely one of your best works, and one of my faves. Keep It Up, even beyond the tournament.
Swoosh Can't help himself capping beauties from the far distance, like who doesn't? A boatload of cuties in one cap (minus the guys of course) but luckily the ladies outnumber them. I'd rather have all of the chicks surround me instead. Nice Cap and Sniping Skills. Keep It Up.
Ashtro, that Curly Girl Hottie gives me the same vibes from betab00ty's cap. This ASS was definitely one to follow before, during, and after "shopping". Absolute Gorgeous Of A Curly Blonde from top to bottom. She's a freaky showoff. She dresses to impress guys at the mall. Outstanding Job Here.
The matchups are getting tougher and tougher For Sure. Looking forward to the Semifinals.
Big Salute To all Shooters in the tourney. For those who got this far, Keep Your Head Up and keep On Capping


Congrats to the winners. We are moving on to the semi finals.
Shooter's get your submissions together asap.
Deadline for Round 4 submissions is tomorrow Sept 19th.
Omfg God the green pants apple booty slut! Jesus fuck!!!
are the winners going to get anything i didnt see any mention of a prize not saying that our respect and admiration isnt enough
@Ze_De
That jiggle is elite tier 10/10

---
@betab00ty
Very surprised you lost this round. She is a banger
Thanks man
@betab00ty
I'm quite surprised too.
for me, it is by far the best entry of the tournament.
literally perfection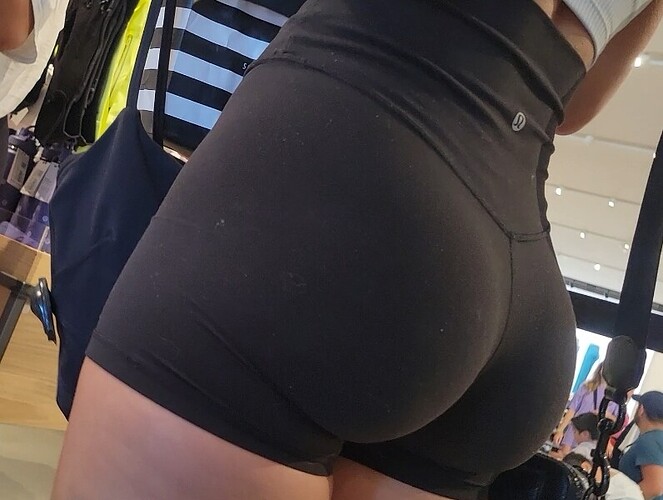 But the voters decided otherwise.